Quantum Energy Services are your eco-friendly industrial sustainability professionals. We are an authorized distributor of Nansulate® patented thermal coatings, ideal for both industrial and residential projects. This product is unique in the coating industry because we use nanotechnology to achieve uncommon results.
How It Works
What sets Nansulate® technology apart from the rest is the thin, paint-on application that is resistant to compression, as well as moisture, mold infiltration, and corrosion resistance. Not to mention, with low VOC's and an NSF Certification, Nansulate® is safer and more environmentally friendly than insulation that is currently in use. The Nansulate® energy savings products offered by Quantum Energy Services create a simple and effective way to insulate buildings, equipment, and machinery by creating a radiant barrier. This radiant barrier creates a safer environment for employees, reduces energy costs, and reduces deterioration of valuable equipment while traditional insulation does not do any of that!
Nansulate® products are created with a resin base that has low VOC's and is environmentally friendly. This unique material has a very low thermal conductivity, which means it acts as an insulator, but far surpasses traditional forms of insulation, by reducing heat conduction (both radiant and conductive), to lower costs for heating and cooling in buildings and process heating and cooling costs in manufacturing. In addition to being next generation insulation, the products also have a combination of other cost saving and protective benefits.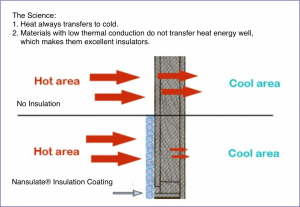 Without an insulated barrier, heat quickly transfers over to the cold area. Materials with low thermal conduction, like our Nansulate® Insulation Coating, do not transfer heat energy well, thus making them excellent insulators. This keeps the protected area cool and avoids overheating.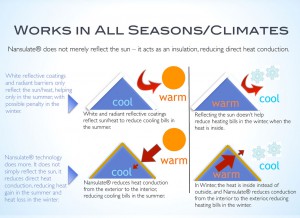 In this case, Nansulate® does not merely reflect the sun; instead, it acts as insulation, reducing direct heat conduction. This makes Nansulate® technology ideal for all seasons and climates. Take a look at this graphic to see just how much Nansulate® technology goes above and beyond your standard white reflective coating to reduce heat conduction, providing energy and cost savings.
Still not convinced? Take a look at this demo video we recorded that shows the difference between your standard roof tile coating and the Nansulate® technology coating at high temperatures.
Contact Quantum Energy Services today to learn more about how Nansulate® technology can offer energy and cost savings and provide corrosion prevention, moisture prevention, and UV and mold resistance.
Photos and some source material for this blog post courtesy of Nansulate®.com.